Nearly two years ago I had accepted a job to become the Athletic Director at a school in KSA.  Not really knowing what I was letting myself into I started looking at who I could connect with and build my PLN.  My move to the Middle East introduced me to @osama13  in which @andyvasily had put me in touch through his PEPLC project.  Since then Osama and I have been in regular contact during my time here, and have discussed everything from what is going on in lessons to his time here in KSA.  Between Osama, Reema and I, we created #physedme back in September 2015 and since then have had many meet ups either virtually or in person, so this week I present Osama & Reema as they tell us what their favourite apps are.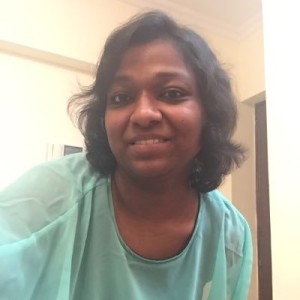 Reema is Head of Department at JNIS which follows the IB program, she loves technology and all things Google as well a a good cup of coffee!
@osama13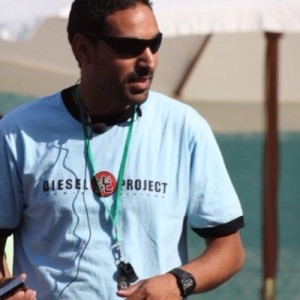 Osama is now the Dean of students at his current school in the Middle East, but previously worked as a PE teacher in an IB school.  He has a wide range of knowledge of the IB program and loves how technology can be implemented into achieving his goals.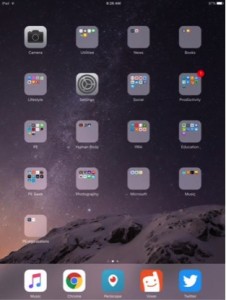 Here is what Reema had to say:
I freak out if things are unorganized as a result if you have a look at my iPad and iPhone screen you will find it organized.
Hence GOOGLE DRIVE (IOS / Android) is the 1st app which is the most important, it helps me organize and document my curriculum, planning and daily execution as well as some personal stuff.
This is how I organize it:-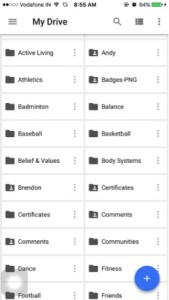 Just a little detail on how I use my Google drive.
Google Sheet: – Working document for recording our daily planning which is as follows (just a sample)
Lesson plan

45 Mins class
Cycle 1
Class
1
2
3
Date
Learning Outcome of the class
Fitness training
Self-analysis of football skills
Identifying Conflict and resolutions
10 mins (Warm up and settling time)
Divide students into smaller groups to perform Circuit training:-
Ladder
Hurdle Jump
Both leg hula hoop Jump
Pole sideways stepping
Cone zig-zag
Skipping
Toe taps
20 mins (Activity)
Football: –
Small sided 3on3 (10 mins.)
5V5 game with rolling substitution (10 mins.)
10mins review (cool down)
Students reflected on the following questions:-
1) Did everyone get a chance to express themselves?
2) Give examples of situations of different perspectives.
3) Did you agree to the decision taken within the team? Give reasons.
4) What you could do differently?
5) Can you relate today's situation to any other sport or real life situation?
6) What do you feel of today's session and why?
PYP EE (Concept, Knowledge, attitude, Skills and action)
Perspective: What are the points of view?
Responsibility: What is our responsibility?
Extra activities (back up if you finish activity before time)
NA
Discussions points: (Write in advance or during the activity)
Anecdotal records
Teacher's reflection
Were the kids engaged during the activity?
Reflect on instructions mode and method?
Discuss the outcome of the class?
Google Docs: – For creating assessments and reflection sheet
Google Forms: – For assessments, organizing student's entries for tournaments, etc….
A sample of a form I created for a tournament: Click Here
Since I work at an IB school our curriculum focuses on holistic development. It is important to develop sport skills. I love to see when students are able to analyze their own performance and improvements. Coach's Eye has helped my students improve their sports technique. It has helped me give specific feedback to my students with evidence.
FITNESSBUILDER (IOS / Android) / SWORKIT (IOS / Android)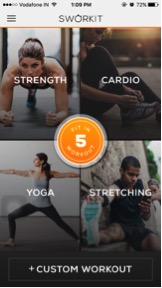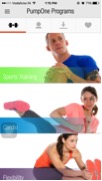 There are many fitness apps and all of us have our favorites so do I. I like working with SWORKIT/FITNESSBUILDER during my fitness unit. These apps have many suggested fitness routines but it also enables us to customize our personal routine, create a schedule (using calendar), set a reminder, set fitness levels, and share on social websites like twitter and Facebook.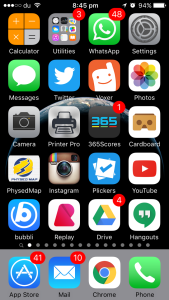 Osama had a few different apps to share than Reema and one that I am going to have to try myself.
Printer Pro (IOS) 
to print from your phone to any printer.  You install software on your PC or laptop then you can print wirelessly from your iPhone to the printer connected to it
check mradampe blog post, I think it is a great formative assessment tool. 
Bubbli (IOS )
To create 360 degree images with sound !
Video calling and #mysterskype – check the post at physedmap.com
Replay (IOS)
Create videos for your personal and professional life experience. 
Some great apps here and I look forward to seeing what other #physed teachers are currently using in their daily practice.  Thank you to Osama & Reema for taking the time to share.